Blanco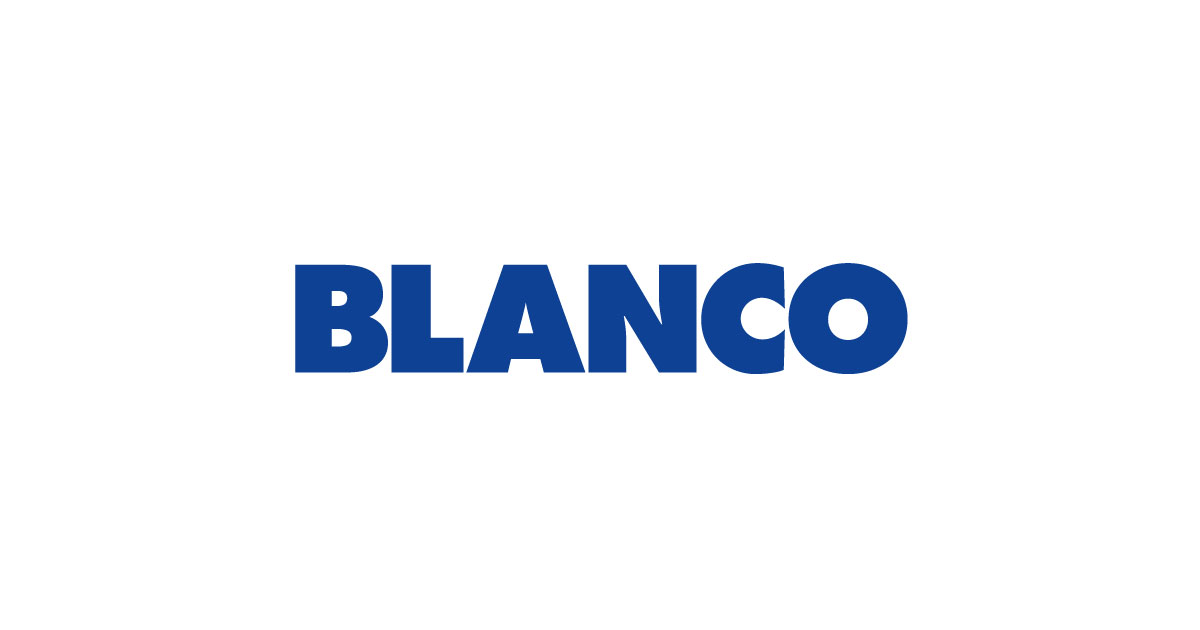 Home appliances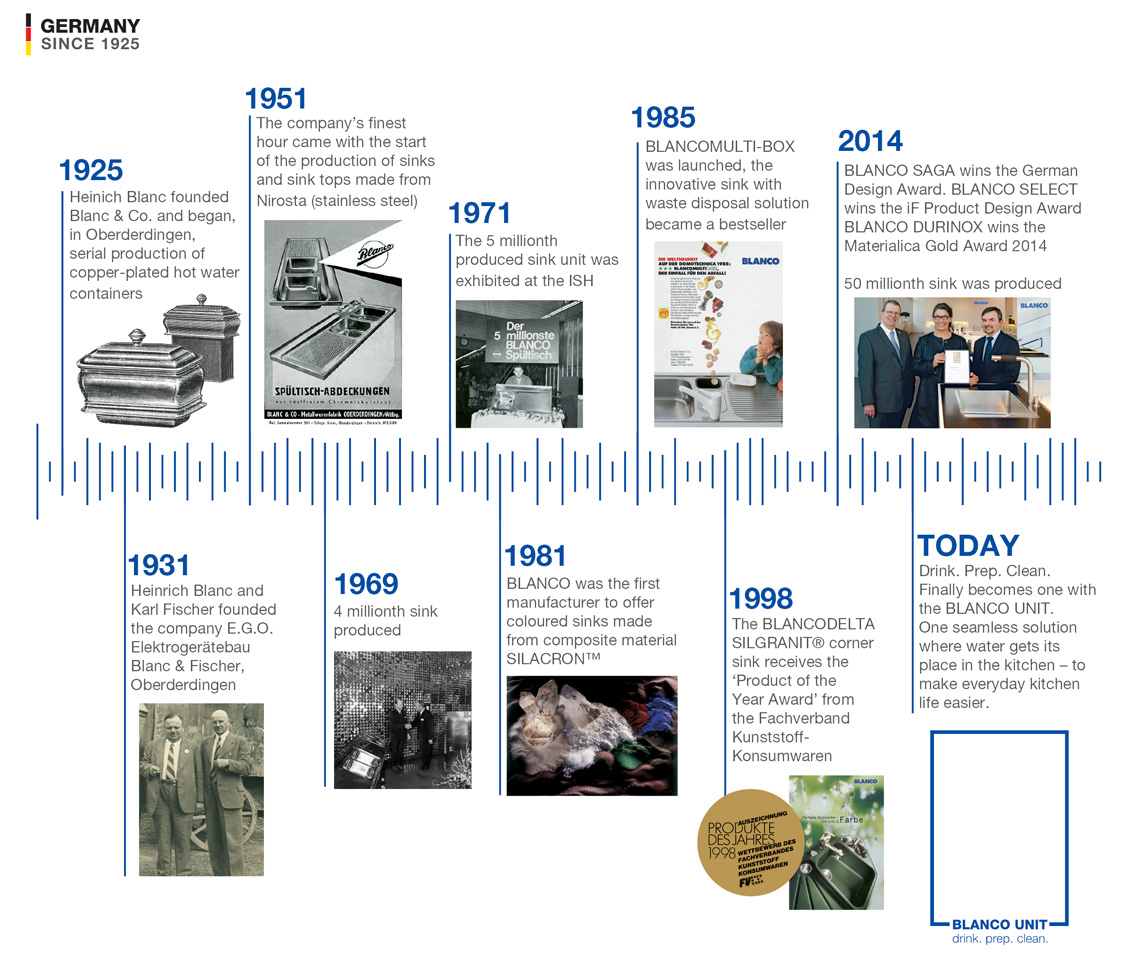 History
Founded over 95 years ago, the company is now an international prestigious premium brand for the kitchen water place. With subsidiaries in Europe, North America and APAC, plus its trading partners, BLANCO has a presence in about 100 countries all over the world and offers its customers a portfolio that is perfectly tailored to consumer needs. The company headquarters and key production sites are in south-west Germany.

In the business year 2021 the BLANCO Group generated consolidated annual sales of 483 million euros and had 1,647 employees (full-time) worldwide by the end of the year, of whom 1,140 worked in Germany and 507 at the international locations.

Founded in 1925 by Heinrich Blanc, today BLANCO is part of BLANC & FISCHER Family Holding and has won multiple employer awards. www.blanco.com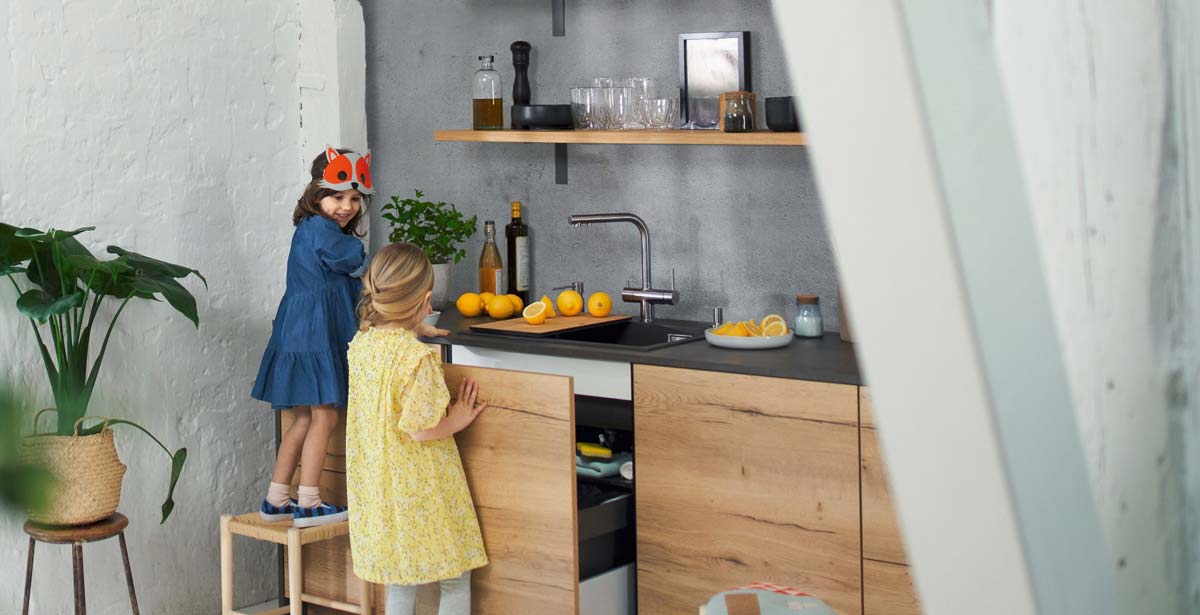 The kitchen water hub assumes its rightful place Drink. Prep. Clean. United at last in the BLANCO UNIT. One seamless solution that restores water to its rightful place in the kitchen – and makes everyday kitchen life easier.
A LITTLE SPOT THAT MAKES THE DIFFERENCE
Enhance your kitchen with a seamless solution that supports your daily water-related chores by combining mixer tap, sink and waste systems.Water plays an essential role in kitchen life. It does its bit for every dish, and not a day goes by without us using it.We associate water first and foremost with cleaning, but it has plenty of other duties in kitchen life. Water is used when preparing food and is found in every drink. From a welcome sip of water to freshly washed chopped salads, it's utterly indispensable. And it all comes down to this one important spot in your kitchen. The BLANCO UNIT.
BRINGING A SENSE OF EASE IN KITCHEN LIFE
While run-of-the-mill kitchens combine several standalone solutions, you can bring a greater sense of ease to daily kitchen life by opting for a perfectly integrated system. All components have been carefully selected to ensure seamless integration with one another and to prove a perfect fit for premium kitchens.The BLANCO UNIT makes everyday kitchen life not only easier, but more stylish, too. After all, its holistic design pays particular attention to perfect colour combinations and surface finishes.

Between preparing food, drinking water and cleaning up, we spend more than half of our time in the kitchen at the water hub. This is where simplified workflows come into play; with the BLANCO UNIT it all flows naturally. Soon you won't be able to imagine doing without all the features that the unit has to offer. The BLANCO UNIT provides steadfast support under any circumstances.
DRINK, PREP, CLEAN – NEWLY UNITED
Once you're aware of water's importance within the kitchen, you'll be looking for premium quality.

While the kitchen is traditionally a place for gathering together friends and family, it also sees plenty of hard work, so it requires the perfect workstation. No matter whether you're preparing food, drinking water or cleaning the kitchen, you always need reliable equipment to hand.

A BLANCO UNIT will more than see you through. Our solutions have undergone internal technical feasibility tests, so a good fit for all components is guaranteed. All component designs are geared towards a seamless solution, so any available space in your cabinet will be fully used. Most importantly, however, the unit will really prove its mettle as you put it to use in all sorts of different ways.
NOT JUST WATER
When it comes to water in your kitchen, you really want to have the smartest and most trustworthy solution. The BLANCO UNIT will provide you with a beautiful masterpiece, while adding the functionality and intelligence that you need. 
MAKE PREPARING FOOD AN EXPERIENCE TO SAVOUR
What do you think is the first touchpoint of your kitchen? It's none other than the sink. This is where you wash your hands and prep your food. Having a thought-through solution that dovetails with your tap and waste system will make things easier and save you time, while ensuring good hygiene.
FOCUS ON THE TASTE, NOT THE WASTE
Wouldn't it be nice to put all your passion and love into the food you're serving to your friends and family? How are you going to cope with all of the leftovers and mess that a big party willcreate in your kitchen? Your BLANCO UNIT has it covered. It helps you keep your cabinet organised and makes cleaning as easy as possible.
Contact us
Do you have any queries or requests regarding Blanco products?
Please get in touch with us; we'll be pleased to respond to you. We can be reached by telephone or email.

02-768-7171
Mon - Fri 8:00 - 17:15, Sat 9:00-16:00

Send message
Click on the link to send a message.

LINE ID: @hafelethailand
Add line Häfele Service